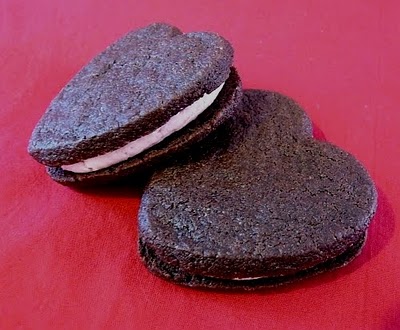 In honour of Valentine's Day I decided to write a post that included some chocolate decadence.
Valentine's Day has never been a big event for me but I do remember one in particular. When my husband and I were first married he decided to surprise me after work and take me out to dinner. Unfortunately, the place he picked did not accept reservations and by the time we got there at 8 o'clock the wait was TWO HOURS. We didn't know what to do. The restaurant was so busy we had to go on a wait list just for a pager that would tell us when a table was ready. Any place we went would have been just as busy and we did not want to go home, so we put our name on the wait list and went to the bar area to discuss our options.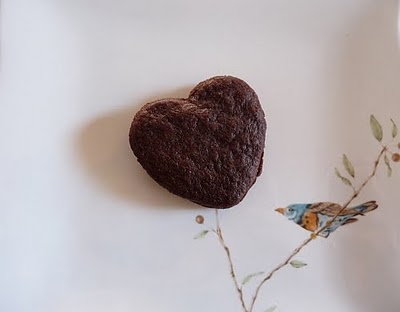 The bar was jammed wall to wall and we stood packed into a corner by the bathroom trying to figure out what to do next. At one point a girl who was sitting at one of the bar tables with her date caught my eye. We looked at each other in a sympathetic way, silently commiserating over our situation. After a little while she called me over and said that she and her boyfriend had given up and were going home and would we like their pager. We were thrilled. To thank them for their thoughtfulness I gave them the chocolate covered strawberries I had bought earlier in the day. About 15 minutes after they left the pager went off and we had a table.
Since that date we have never gone out for Valentine's Day again. It's just not our thing and I can't be bothered with the crowds, but to this day I think of that couple and the kindness between strangers. So in memory of that evening I am publishing this post for Chocolate Sandwich Cookies with Strawberry Cream.
This is actually a recipe for homemade Oreos that I found a while ago on
Smitten Kitchen
. I adapted it a bit so that I could roll the dough out to make heart shapes. It makes an exceptional chocolate cookie that would be great on its own, but with the strawberry cream it is over the top decadent and delicious.
Chocolate Sandwich Cookies with Strawberry Cream Filling
Adapted from
Retro Desserts
, Wayne Brachman via
Smitten Kitchen
Makes 15 to 20 sandwich cookies
For the chocolate cookies:
1 1/4 cups all-purpose flour
1/2 cup unsweetened Dutch process cocoa
1 teaspoon baking soda
1/4 teaspoon baking powder
1/4 teaspoon salt
1 cup sugar
1/2 cup plus 2 tablespoons room-temperature butter
1 large egg
For the Strawberry Cream Filling:
1/4 cup room-temperature, unsalted butter
1/4 cup vegetable shortening
2 cups sifted confectioners' sugar
1 teaspoon vanilla extract
2 tablespoons strawberry preserves
pink food colouring
Preheat oven to 375°F.
In an electric mixer, mix the flour, cocoa, baking soda and powder, salt, and sugar. On lowest speed, add the butter, and then the egg. Continue mixing until dough comes together.
Very lightly flour your work surface. Roll cookie dough to 1/4 inch thickness. Using a small heart shaped cutter, cut out cookies and transfer to parchment lined cookie sheet, spaced one inch apart. Bake for 7-8 minutes. Set baking sheets on a rack to cool.
To make the strawberry cream, whip butter, shortening and strawberry preserves in a mixing bowl until creamy. At lowest speed, gradually beat in the sugar and vanilla. Turn the mixer on high and beat for 2 to 3 minutes until filling is light and fluffy.
Fill a pastry bag fitted with a 1/2 inch round tip with the cream filling. Pipe the filling, following the heart shape of one cookie. Place another cookie on top. Press lightly to spread strawberry cream to the edge of the cookie. Continue this process with the remaining cookies.