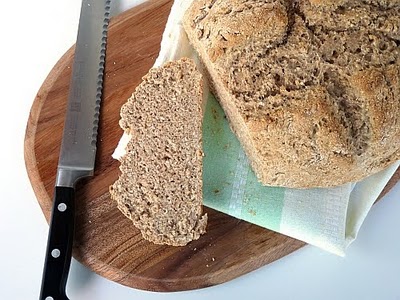 Irish Soda Bread is something that I think has gotten a bad rap. I often hear it described as boring, too dense, heavy and tasteless. Personally, I think this reputation is undeserved. It is farmhouse fare and the whole point is that it is quick and hearty. It is a bit like a cross between bread and biscuits and it is precisely the dense and substantial texture of the bread that I find appealing.
Like anything, I think the issue hinges on the quality of the recipe. I have had soda bread that is as heavy and tasteless as a brick (or as tasteless as I would imagine a brick to be) and I have had soda bread that is moist and flavourful.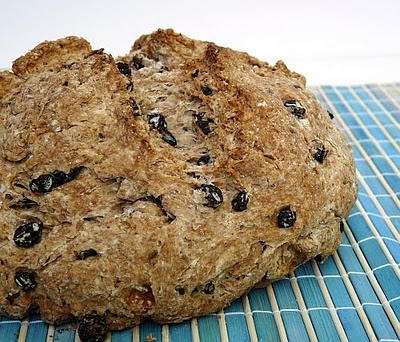 This past weekend, I made two different kinds of soda bread from two very different recipes. The first was closer to the classic recipe as it included oatmeal and buttermilk and the only leavener was baking soda. The second recipe was what I would consider more of a modern twist as the recipe included yoghurt and cider vinegar and called for both baking powder and baking soda. Both were very good, so I am going to post both recipes. Try them and see which one you like best, but don't forget, a healthy smear of butter is soda bread's best friend.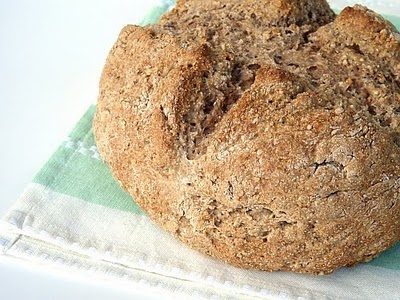 Traditional Irish Soda Bread
adapted from a recipe from
Europeancuisines.com
3 cups whole wheat flour
2 cups all purpose flour
Scant 1/2 cup steel cut oatmeal
1 tablespoon sugar
1 teaspoon baking soda
1 teaspoon salt
2-3 cups buttermilk
Preheat the oven to 450 degrees. Line a baking sheet with a silicon mat or parchment paper.
Mix all dry ingredients together in a large bowl. Stir to ensure the baking soda is well distributed throughout. Make a well in the centre and pour in two cups of the buttermilk. Stir to combine, if the dough is not wet enough add more buttermilk.
The dough should come together quickly. Resist the urge to stir it too much as it will make the bread tough. Just as the dough is mostly wet through and beginning to clump together dump the mixture out onto a clean surface and knead a couple of times to bring the dough together into a ball.
Move to the baking sheet and cut a cross in the top of the dough, about an inch deep.
Bake for 10 minutes at 450 degrees. Turn the heat down to 400 degrees and continue to bake for 30-35 minutes or until the centre is cooked through and springs back when touched.
Remove from the oven and let cool slightly. Serve warm with butter.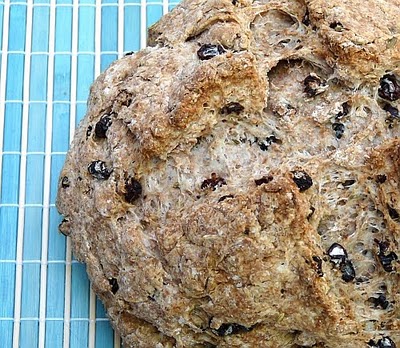 Currant and Fennel Soda Bread
adapted from
EverybodyLikesSandwiches
1 cup yogurt
1/3 cup milk
1/3 cup apple-cider vinegar
1 1/2 teaspoon vanilla
3 1/2 cup all-purpose flour
1 cup wheat bran
2 1/2 teaspoon kosher salt
2 tablespoons sugar
1 teaspoon baking powder
1 teaspoon baking soda
4 tablespoon cold butter, cut into pieces
2 tablespoons fennel seeds, lightly crushed
1 teaspoon ground cinnamon
1 cup dried currants
Preheat oven to 350 degrees. Line a baking sheet with a silicon mat or parchment paper.
In a small bowl, combine yogurt, milk, vanilla and apple cider and set aside.
Mix dry ingredients together in a large bowl. Add butter pieces and cut or rub into the flour mixture until it resembles coarse crumbs. Stir in fennel, cinnamon, and currants.
Make a well in the centre and pour in the yogurt mixture and stir until the mixture starts to come together. Turn the dough out onto a lightly floured surface and knead a few times. Pat into a dome-shaped ball and place onto the baking sheet. Sprinkle some flour on top and cut a cross into the loaf. Bake for 45 minutes, or until a cake tester inserted comes out clean. Cool slightly and serve warm with butter.
Next post:
Cherry, Almond Chocolate Chip Cookies