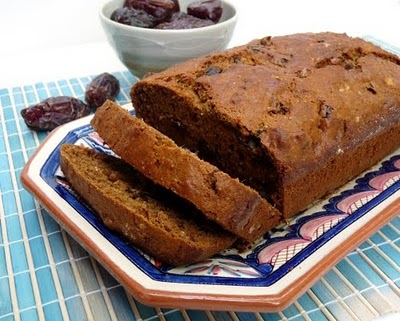 Just the other day I found myself wanting to make
Lemon Coffee Cake
again. I had tried it a couple of weeks ago and I really liked it but I wanted to try a few tweaks to the recipe. I started mixing everything together, only to discover I had just one egg. It was not enough for the coffee cake but my little shopping oversight led me to make something I hadn't made in years.
I was feeling too lazy to run to the store, so I started to flip through my recipe cards to look for something that only needed one egg. That's when I came across my mother's recipe for Date Nut Loaf.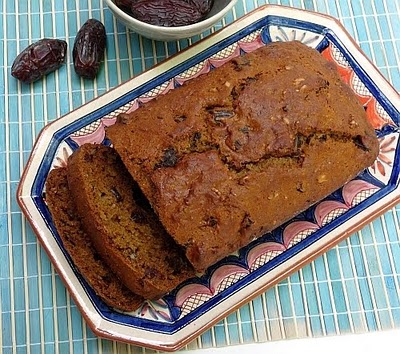 It was a complete reversal, from light and
citrusy
lemon bread to the dark rich taste of dates and walnuts but in the end I was glad my lack of planning led me in that direction. Making that recipe was a trip down memory lane. I remember being in the kitchen of my childhood home, eating this bread hot out of the oven. My mom would spread my slice with butter and it was pure decadence. I have always liked
the combination
of a dark, nutty bread with the rich, intensely sweet flavour of dates and this bread perfectly captures that balance.
I eventually got some more eggs and finished up the Lemon Coffee Cake, so we have been working our way through light and dark all week. I think between the two I have preferred the dark mostly because I loved rediscovering an old favourite. For me it's a bit like going home, being a kid again. That's my idea of comfort food.
Date Nut Loaf
1 cup chopped dates
1/2 cup brown sugar
1/4 cup butter
3/4 cup boiling water
1 egg
1 1/4 cup all-purpose flour
1/2 cup whole wheat flour
1 teaspoon baking soda
1/2 teaspoon salt
1/2 cup chopped walnuts
Preheat the oven to 350 degrees Fahrenheit. Position your oven rack to the centre of the oven. Grease and flour a 9 inch loaf pan.
Place the chopped dates, brown sugar and butter into a medium bowl. Pour the boiling water over top of these ingredients and set aside.
In a small bowl whisk together the flours, baking soda and salt.
Stir the date, sugar and butter mixture just until the butter is melted and the sugar is dissolved. Once the date mixture has cooled to room temperature add in the egg and mix until combined. Add in the dry ingredients and stir just until combined. Lightly toss in the chopped walnuts, mixing just until they are distributed throughout the batter, being careful not to over mix.
Pour the batter into the prepared loaf pan and bake for 40-50 minutes or until the bread is a deep golden brown and a toothpick inserted near the centre come out clean.
Remove from oven and cool on a baking rack. After 5 minutes loosen the edges of the bread from the pan and remove it by inverting the pan onto the baking rack. Cool completely before serving, if you can wait that long.