Last weekend I got the family up early and we headed down to
St Lawrence Market
. Up until a couple of years ago we lived just north of the Market so we were there almost every weekend. But then we moved to the west end of the city and our trips have become less frequent.
It's always been one of my favourite places in the city so I try to get there as often as I can. It is a huge market complex that takes up both the south and north corners of Front Street at Jarvis. The south building is the main market, with an incredible array of vendors selling everything from baked goods, to meats, to kitchen supplies, to caviar.
The north building is the farmers' market where local producers bring in the best of the season. It is a very vibrant space, especially this time of year. It is amazing what you can find even in April, when you expect nothing to be available so early in the growing season. But last weekend there was the first asparagus and rhubarb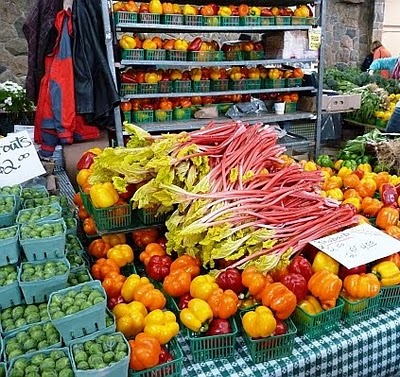 brussels sprouts and peppers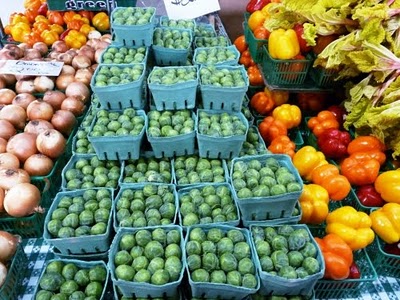 onions and black radish (which I had never tried, but turned out to be very nice)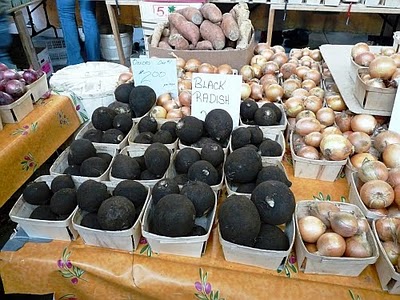 and of course, wild leeks.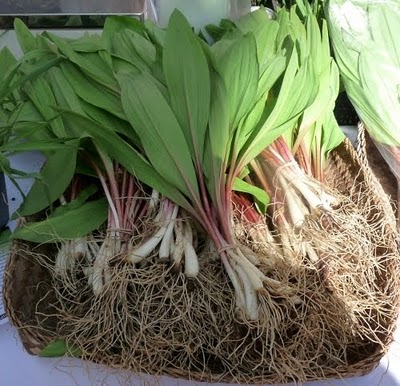 As those of you who saw my
Zucchini and Wild Leek Fritters
post know, I am mad for wild leeks. Last year I was very cautious with them, as I had never had them before and I didn't really know what to do with them.
This year I have been using them with abandon. I put them in a tofu stir-fry, I added them to my pasta sauce and I made a really nice pan of roast vegetables that included wild leeks,
fiddleheads
and
brussels
sprouts. It was a clean out the fridge measure that turned out to be a fantastic combination that I will definitely do again.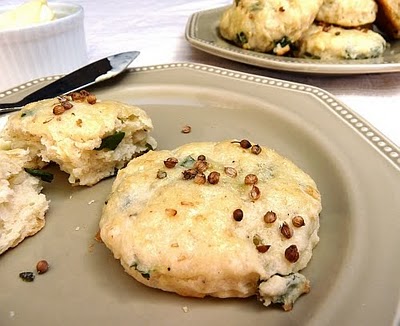 And I made Wild Leek Buttermilk Biscuits. I came across a picture of these biscuits while I was looking for recipes and I was intrigued. It was such an unexpected use for wild leeks and I loved the idea of adding coriander seed so I followed the link and found this lovely blog...
Klutzy Chef
. The recipe originally came from the April 2009 issue of
Bon
Appetit
.
They were very good biscuits. I often find biscuits can get dry after a few hours but even though I made these in the morning they were still really moist at dinner. And they were so flavourful and the addition of the crushed coriander seed was such a nice compliment to the savoury flavour of the leeks. This recipe is a keeper and when wild leeks are no longer available I know I will be making them with spring onions or roast garlic, or any other number of combinations. I reduced the salt a little bit and I added a bit more coriander, but otherwise kept to the original recipe.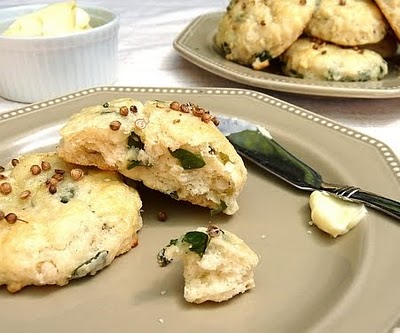 Wild Leek Buttermilk Biscuits
adapted from
Bon
Appetit
via
Klutzy Chef
3/4 cup chilled buttermilk
3/4 cup thinly sliced trimmed ramps (bulbs, stems, and green tops)
1 1/2 cups all purpose flour
2 teaspoons baking powder
1/2 teaspoon salt
1/4 teaspoon ground black pepper
6 tablespoons (3/4 stick) chilled unsalted butter, cut into pieces
1 large egg, beaten to blend (for egg wash)
1 teaspoon coriander seeds, cracked
Preheat oven to 425°F. Line a baking sheet with a silicone mat or parchment paper. In a medium bowl, mix flour, baking powder, salt, and pepper. Add butter pieces and work into the flour mixture until it begins to clump together and the texture resembles small peas. Add the sliced wild leeks and toss to combine. Add buttermilk and stir just until the dough comes together. Do not over work or the biscuits will be tough. Turn dough out onto lightly floured work surface and roll out to a round, about 1/2 inch thick. Using 2-inch-diameter biscuit cutter dipped in flour, cut out your biscuits. Gather dough scraps together and roll out again to 1/2-inch thickness and cut out additional rounds. Transfer the biscuits to your prepared baking sheet. Brush biscuit tops with the egg wash. Sprinkle with cracked coriander seeds. Bake biscuits in the centre of your oven until golden brown, about 20 minutes. Cool on rack. Serve warm or at room temperature.
Next post:
Rhubarb Custard Pie and
Dufferin
Grove Farmers' Market