It is amazing what creatures of habit we can be. I am always on the lookout for new recipes and I love trying new things but it seems at the end of the day I am pretty predicable.
I mentioned, when I posted the recipe for
Zucchini and Wild Leek Fritters
that I crave them every year about the same time. Well, this recipe for Garden Pasta with Ricotta falls into the same category. I don't know what triggers the need for this dish, but every year, without having thought about it for 6-9 months, I all of a sudden find myself furiously thumbing through my recipe cards looking for it.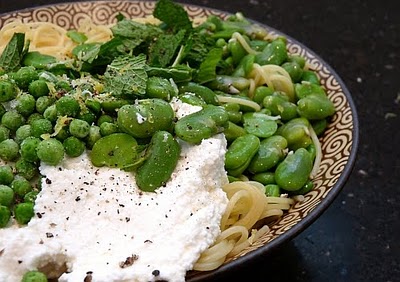 This time, however, I am pretty confident that I was tipped in that direction by the basket of organic fava beans I found at
The Sweet Potato
supermarket. I was surprised to see them so early but I didn't waste much time thinking about it. I snapped up a big bag of them and headed right home to search through my recipe cards.
This is the kind of meal I like this time of year. It's light and fresh, quick and easy and lets the natural flavours of the ingredients shine through. Plus I love, love, love recipes that include lots of fresh herbs, particularly mint.
I used to be mad for basil but now I adore mint. I find it more complex and a bit unexpected in savoury dishes. I add it to all kinds of things from yoghurt dip to curries to moroccan stews. I have a really amazing salad recipe that calls for a ton of mint, but I'll save that for another day.
For now I am going to focus on this pasta. Fava beans can be a bit of a pain. You have to remove them from the pod, blanch them and then remove the tough outer skin from each bean. This dish is worth the effort and after that the work is pretty much done. Just boil some pasta and toss the ingredients together. Then pour a glass of crisp white wine and enjoy the taste of summer in a bowl!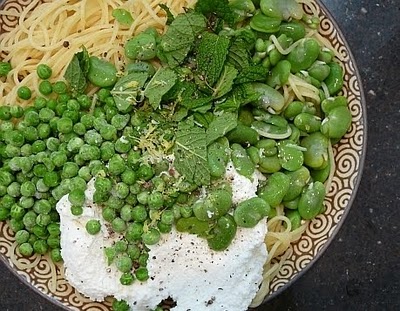 Garden Pasta with Ricotta
This recipe originally came from a pull-out recipe card I got inside of a
Martha Stewart Living Magazine
1 pound fresh fava beans, shelled
1 pound fresh or frozen peas, shelled
1 pound pasta (I used spaghetti)
1 cup ricotta cheese
1/2 cup grated Parmesan cheese
1/4 cup coarsely chopped mint leaves, plus more leaves for garnish
zest of 1/2 lemon
2 tablespoons extra-virgin olive oil
salt and pepper to taste
Fill a large pot with well salted water and bring it to a boil. In a large bowl, prepare an ice-water bath. Place the shelled fava beans into the boiling water. Let it return to a boil, about 1 minute and then blanch beans 1 minute more. Remove beans from the water with a slotted spoon and place in the ice-water bath. Peel and discard tough skins; set beans aside.
Using the same water, blanch peas about 2 minutes or until just tender and bright green. Remove from water with a slotted spoon and place peas in ice-water bath. Drain, and set aside.
Fill your pot with fresh well salted water and bring to a boil. Add the pasta of your choice and cook until al dente. Reserve 1 cup of pasta water and then drain pasta.
In a large bowl, combine ricotta, parmesan, lemon zest and mint, Add cooked pasta, fava beans, peas and pasta water. Toss to combine. Add salt and pepper to taste. Drizzle with olive oil. Sprinkle with additional mint.
Next post:
Date Walnut Loaf