When I was younger it was the social aspect of food that initially attracted me to the idea of learning how to cook. There was something powerful about the ability to draw people together with good food. I liked the idea that something I created could be more than just a good meal but could also be a good memory.
That was how I felt about going to my grandparent's house. The food was amazing, as always, but it was more than the eating of it, it was the ritual and the family experience that I found most attractive. We had little routines that became part of my shared consciousness with my family, such as where I sat at the table (always beside my grandfather, so that I had the best seat to listen to his stories when dinner was done) or how many dessert we had, or breaking out the leftovers just hours after we had finished dinner (when we were playing games).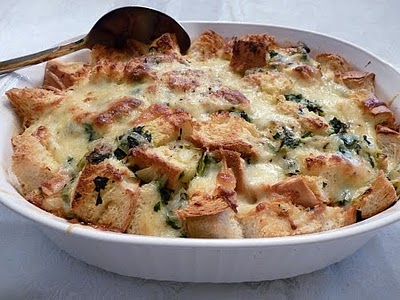 So now I enjoy entertaining for my family and friends, and I hope that I am creating the same experience for them. But along the way I discovered that it was not as effortless as my grandparents and parents made it seem. The challenge was making the food and still having time to spend time with your guests. I often made the mistake of making something intricate and "gourmet" that required so much attention that at the end of the evening I felt like all I had done was work in the kitchen while my guests and my family socialized. After awhile I got smart and realized that it was possible to make memorable food and spend time out of the kitchen.
This Spinach and Gruyere Strata is an excellent dish. It can be the centerpiece of a great meal and absolutely allows you to spent time enjoying yourself, free from the confines of the kitchen. I first saw the recipe at
Smitten Kitchen
and I made it for a New Year's Day brunch. It was a hit with everyone. You make the Strata the night before, so all you have to do is pop the prepared dish straight from the fridge into a preheated oven about 45 minutes before you want to eat and that is it. Serve it with a simple salad and you have a great brunch or dinner menu and, of course, you can change it up anyway you like. It would be great with ham and Swiss, or ham and asparagus, or peppers and Asiago or any number of other combinations.
Spinach and Cheese Strata
Adapted from Gourmet Magazine, February 2003 via
Smitten Kitchen
Serves 6 to 8
1 (10 ounce) package chopped frozen spinach, thawed and squeezed of excess liquid.
1 1/2 cups finely chopped onion
3 tablespoons unsalted butter
1 teaspoon salt
1/2 teaspoon black pepper
1/4 teaspoon freshly grated nutmeg
8 cups bread cut into 1-inch cubes (I used Sourdough, but French or Italian would work well)
2 cups coarsely grated Gruyère
1 cup finely grated parmesan
2 3/4 cups milk
9 large eggs
2 tablespoons Dijon mustard
Saute onion in butter in a large, heavy skillet over medium heat until translucent. Add spinach, 1/2 teaspoon salt, 1/4 teaspoon pepper and nutmeg and continue cooking for one minute. Remove from heat and set aside.
In a small bowl, combine the grated Gruyere and grated Parmesan. Spread one third of the bread cubes in a buttered baking dish. Top with one-third of spinach mixture and one-third of cheese mixture. Repeat layering twice with remaining bread, spinach and cheese.
Whisk eggs, milk, mustard and remaining 1/2 teaspoon salt and 1/4 teaspoon pepper together in a large bowl and pour evenly over strata. Cover with plastic wrap and refrigerate overnight or at least 8 hours.
The next day, let it stand at room temperature for 30 minutes while preheating the oven to 350°F. Bake strata, uncovered, in middle of oven until puffed, golden brown, and cooked through, 45 to 55 minutes. Let stand 5 minutes before serving.